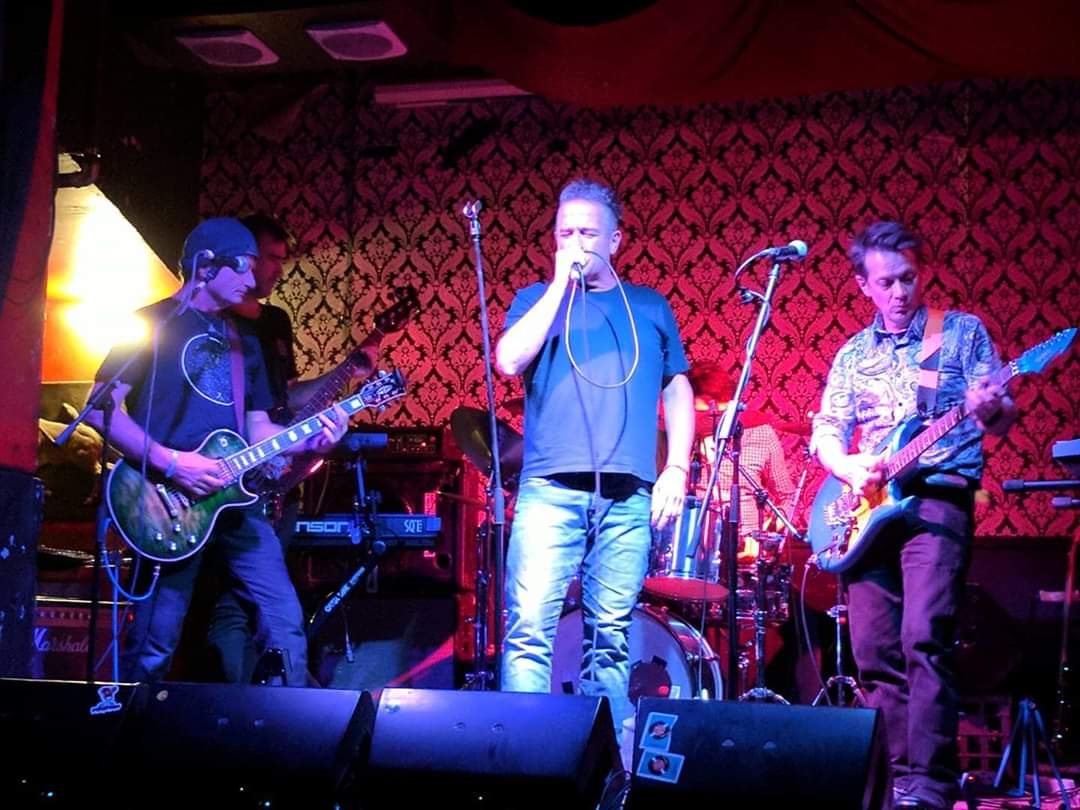 Guitar 1, digeridoo He left home when he was young because he wanted to find himeself, but he found a bunch of other people instead. Eventually he took some inspiration from the Foo Fighters, and learned to fly so he could make his way back home, and he found he was there, waiting for himeself the whole time.
Guitar 2, keyboards, piano
Kind of short and weedy, he writes songs, rides motocycles and builds guitars and stage and theatre props. Also a whiz on the BBQ!
Vocals He was always wanted to be in a band, even as a kid. We made him the singer because his brother took opera lessons, and that was the closest any of us were to being qualified. He has justified our confidence in him by working hard to develop his voice. Now he rarely hits an off note, and adds a flavour of early Eddie Vedder to our sound that we love dearly.
Bass
Daniel. A simple man with simple needs in a complicated land. He feels the rythm with every breath, adding counterpoints to the unrelenting pulse of life. He was just a kid when we first recruited him, as we were having trouble finding a bass player that was a good fit with the rest of us. But Daniel was easy going and keen to learn. And now, all these years later, he is an indispensible part of the band, and always comes up with interesting bass arrangements.
Drums and anything percussive What can we say? This guy likes to hit things. He was born the USA, but I am not sure how much else of the Bruce Sprinsteen song is relevant to him. Here we see him grounding himself, and getting closer to the roots and the rocks.
Something Other Than Us, Symptom Of The Universe, Sorrow Of the Unloved, Several Of The Unicorns, Stupid Old Town University, Screams Of The Undead, Secrets Of The Unknown, Soldiers Of Thelion United, Scars On The Underside, State Of Total Unpreparedness, Several Other Things Unknown, Some Old Twaddle Usually, Sale Of The Unused, Souls Of Tortured Underlings, Sounds of the Universe, Smear On The Unguents, Scared of the unknown, Silence of the unheard, Smells of the Unwashed, Sneers of the Unforgiving, Silence Of The Unwanted, Solidarity of the United, Sadnes Of The Unwanted, Smell Of The Urine, Stars Out Toward Uranus, Sneers Of The Unimpressed, Snivels of the Undeserving, Song Often Too Under-rated
Formed a long, long time ago, in a galaxy far, far away, but embracing the philosophy of "Never Gonna give you up", members have left, died and got better, but remain driven by a passion even they cannot explain.